Trip Overview
Photos
Video
Tour de Suisse 2008 - Stage 6
Ambri --> Verbier (188.1 km)
Thursday, June 19, 2008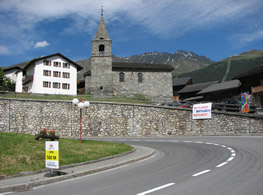 TheTour of Switzerland (better known around here as Tour de Suisse), traversed the canton of Valais during Stage 6 of this year's tour. The riders braved the hot temperature and tackled one hors category climb early this day only to finish atop a 1st category climb at the Swiss ski resort of Verbier.
I happily hitched a ride withWill to Sembracher while Eric opted to cycle 126 kilometer from Geneva via the south side of Lac Leman to our meeting point at Villette-Le Châble. The 9-kilometer climb up to Verbier begins here and has an average grade of ~7.7%.
Even before we left the town of Villette-Le Châble, I waved Eric and Will on and settled down for the long solo ascent on the Bianchi hybrid. Despite an intention to climb the distance without stopping, the breath-taking scenery changed all that and I stopped a couple of times to snap a few pictures.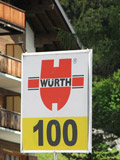 I found Eric and Will near the finish line in Verbier with half empty glasses of beer and Coke. As he had previously planned, Eric left soon after my arrival for the long ride back to Geneva.
Will and I rode down the same road and found a perfect viewpoint up from a hairpin near the 2 kilometer to arrival marker. There we settled in and collected various goodies from the passing caravan including the much appreciated Caillers ice cream bars distributed by a Frisco van.
The race was exciting to watch. In a climb like this, with the lead groups closely bunched, good tactics win the race. Stijn Devolder of Quick Step (Belgian National Champion) passed by us first closely followed by a group that included Kim Kirchen (Stage Winner), Andreas Klöden, Roman Kreuziger, Serguei Ivanov, Andy Schleck, Thomas Lövkvist, Igor Anton (Yellow Jersey Stage 5), Damiano Cunego and Markus Fothen. While Devolder seemed to hyperventilate as he cycled past us, Kirchen sat comfortably in the back of the chase pack, lead by Klöden. We later learned that Devolder admitted to have made his move too early.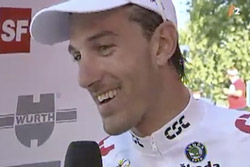 As usual during these races, I cheered on the guys at the top of my lungs as they passed.
ALLÉ ALLÉ ...! BON COURAGE ...!
In appreciation for my enthusiastic support (wink), two of the riders thanked me in Japanese with "Arigato", perhaps because I'm Asian and ignoring the American flag prominently displayed on my baseball cap. One of these two riders was Fabian Cancellera, a Swiss rider from Team CSC. A tour veteran known for his time-trial abilities, he sat in the midst of the peleton along with McEwen and Dekker and conserved his energy for a stage win the following day at Lyss. Congratulations on the win Fabian!
Following the race, Will and I experienced a priceless descent down to Villette. We rode downhill with a few pros since some team buses were parked either along the climb or at the villages below. I watched them whiz by (sometimes waiting patiently behind me as I took WIDE and SLOW turns along the hairpins). It is amazing to see up close how the pros tackle hairpins in ways I would never dare to attempt.
A special HORRAY! to my brave husband Eric for completing his longest single-day cycling ride of 272 kilometers in less than 9 hours and without drafting a single cyclist. All I can say is ... WOW! ...
- Katy, 6/20/2008

Last updated: June 20, 2008
Video: Tour de Suisse - Stage 6 - 2km from Finish in Verbier
Fabian Cancellara (Team CSC), tucked in the main peleton with McEwen and Dekker in the lead, thanked me for cheering them on with "Arigato" (Japanese for "Thank You") as he passed by me. NICE! Cancellara was the 2nd rider to say "Arigato" to me during this stage. This clip is embedded within the video close to the end.