Cycling Col de Tamié, Collet de Tamié and Col de l'Epine
Sunday, April 19, 2009

Along the west side of Lac d'Annecy (Lake of Annecy) lies a well-maintained cycling path. This beautiful 35km path used to be a railroad track and links the following cities/towns: Annecy <-> Duingt <-> Faverges <-> Ugine. Work is in progress to extend the cycling path to Albertville. (info)
We began our trip from Duingt as we wanted to cycle through an old railroad tunnel in Duingt.

We left the cycling path at Faverges and headed south towards Col de Tamié. Along this route we crossed over to the department of Savoie. From Col de Tamié, we climbed an additional 53 meters (~800m distance) to reach Collet de Tamié.
Back down in Faverges, we briefly continued on the cycling path before turning north towards Saint-Ferréol. We rode by an intermediate col, Col des Essérieux, where Eric pointed out the remains of two cars down the drop (yikes!) and through the village of Serraval (beware of cyclist-chasing dogs) in order to tackle Col de l'Epine from the easier side.
From Col de l'Epine, it was a steeper 7km descent to Marlens followed by a flat 16km on the cycling path back to Duingt.
- Katy, 4/20/2009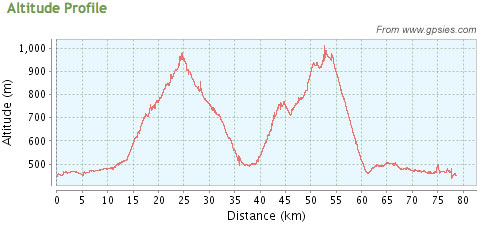 Last updated: April 20, 2009