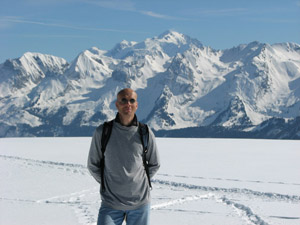 Plateau des Glières
Saturday, February 21, 2009

Plateau des Glières is a limestone plateau. It is part of the Bornes massif (massif des Bornes) located in the Haute-Savoie region. During the winter, part of this plateau becomes a nordic ski area.
We joined our friends Barry, Doreen and Will to the area. While they cross-country skied, we hiked. Our loop took us up to a higher plateau where we had breath-taking panoramic views. We continued onwards past Chalets des Auges (1,760m) to the eastern edge of this plateau before turning back.
Most of the hikers we saw sported snowshoes. Happily, our boots were sufficient and allowed us to run/slide down the slopes on the way back.
- Katy, 4/8/2009

Last updated: April 8, 2009